For Quality Care
Call Anderson Air
Greenland

, Arkansas' Trusted Heating and Cooling Service Provider
Our team at Anderson Air are proud to serve the residents of Greenland, AR for all of their heating and cooling needs. We have been serving the area for years and promise to bring affordable prices and professionalism to the job with us when it is time to fix your HVAC system. Some of the different services that we are proud to offer our customers include:
Reliable Heating and Air Conditioning Services in
Greenland

, Arkansas
Anderson Air will provide you with all the reliable services that you need for all your air conditioning, and heating needs in the Greenland area. We know that there are other companies in the area you can choose from, but we strive to provide service that gets our name noticed because we put the customer first. Our affordable and transparent pricing has helped us to meet our customers expectations each time.
We know that each client has their own expectations when they start to work with us. We are happy to discuss your HVAC process with you from the very beginning, making sure that you get the right service for an affordable price every time. You can even check out our convenient calculator on the website to get an idea of what the typical cost for our services will be!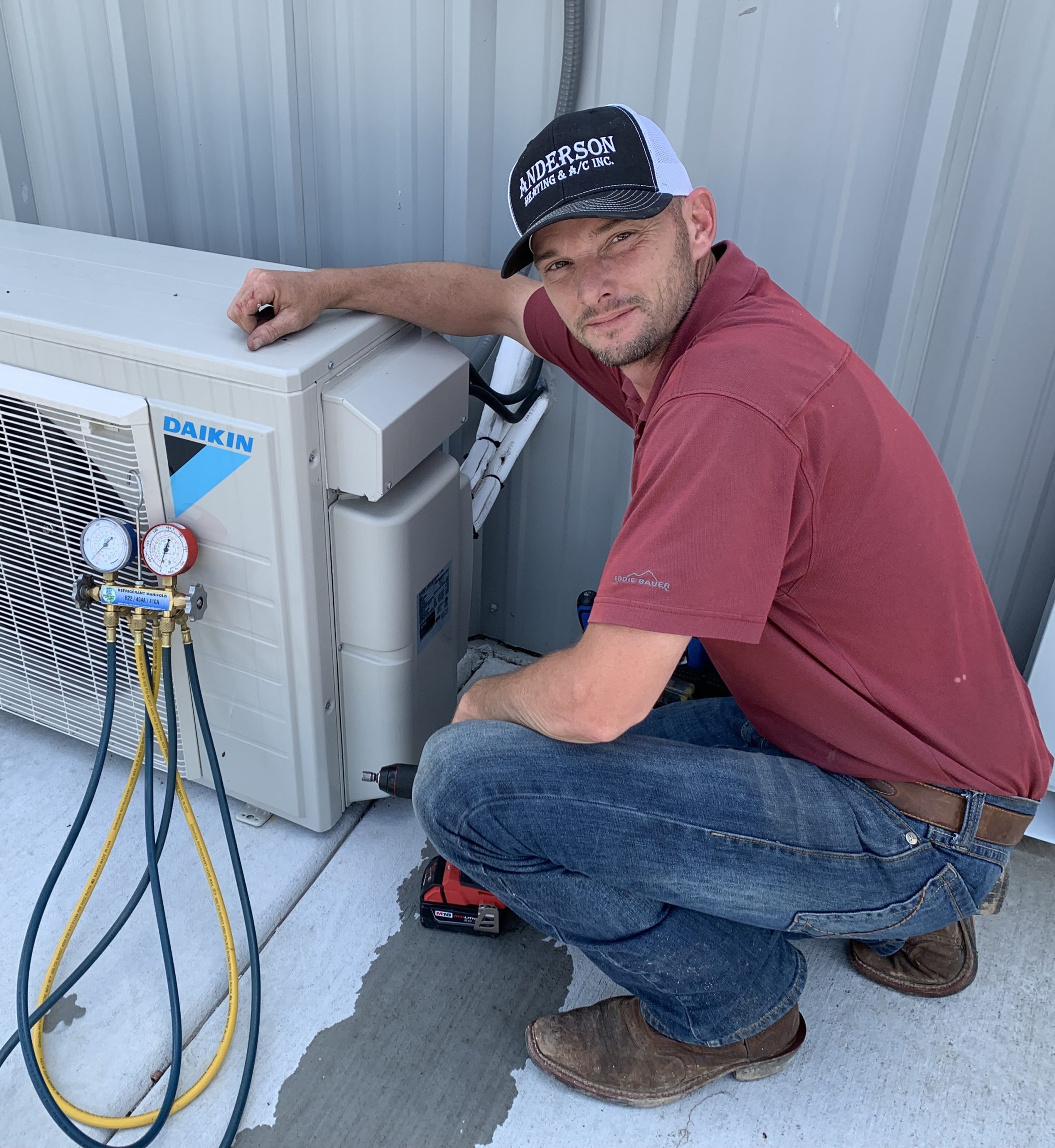 Residential HVAC System Repair and Installation Services in
Greenland

, Arkansas
Many of our customers need help with their residential HVAC system. We are proud to serve our residential customers in Greenland. When something stops working with your heating and air conditioning system, you need someone who can come out right away and help out. Some of the ways that Anderson Air can help with your residential HVAC system  includes: Duct leaks repair, Thermostat installation, Geothermal services, Air conditioning, Routine maintenance, Heating repair, Air purification.
These are just some of the services that we can provide to our customers. If you have a unique HVAC repair or maintenance need, we are happy to discuss that with you as well!
Commercial HVAC System Repair and Installation Services in
Greenland

, Arkansas
Not only are we proud to be able to serve many of the great residents of Greenland, AR, but our team is able to help out with commercial HVAC repair and maintenance as well. Our team is fully licensed with the proper training to handle all the complexities that come with your commercial system. Some of the services that we can offer for our commercial customers include: HVAC repair, Planned maintenance, Special projects, Sheet metal fabrication, Automation and controls, Air purification.
Our team can stand out from the rest with our professionalism, transparency, and affordable pricing. If you have a commercial HVAC system that needs some care and attention, do not hesitate to call us about it today!
We Offer Quality Services in
Greenland

, Arkansas
A small problem can quickly grow into a large and expensive one when it comes to your HVAC system. That is why we encourage you to give us a call at Anderson Air right away when you suspect something is wrong with your HVAC system. This gives us a chance to check out the system and get it repaired as quickly as possible, ensuring the HVAC system will last a long time and saving you money in the process.
Reasons to Choose Us for Your Heating and Cooling Needs in
Greenland

, Arkansas
Anderson Air is just one of the many choices you can make for your HVAC repair and maintenance. But we believe we are one of the best choices in the Greenland, AR area. Some of the reasons why you should work with us include:
Service when you need it
Our team is here to help maintain and fix your HVAC system, no matter the time of day when things stop working for you. 
The right experts
We are here to provide you with some of the best service professionals, with everyone on our team trained to handle your unique HVAC system needs.
100% satisfaction guarantee
If something is not working well in your HVAC system, we guarantee that we will come and get it fixed quickly. 
We love our job and how we are able to help all the residents of Greenland, AR.
Things to Do in
Greenland

, Arkansas
If you are in the Greenland, AR area, then you need to check out some of the fun things to do. This is an exciting part of the state to visit and you will get to enjoy all of the fun activities in no time. Some of the things that you can enjoy while in Greenland, AR include:
Skydive Fayetteville
Close to Greenland, AR you will be able to spend some time in the air. Skydiving is a fun thing to do in this part of the state. Do it alone or with another person for more fun. 
Arkansas Air Museum
Get some education in and learn a bit more about the sky. The Arkansas Air Museum is close to Greenland and will have many airplanes and more that you are sure to enjoy. 
Purr Catfe and Lounge
If you like cats and want a chance to play with them, without having to take one home yourself, then this is the perfect place to go. Spend a few hours playing with some cats and enjoying a new furry companion. 
Baums Stadium
This is the home of the Arkansas razorbacks baseball team. It is a large stadium with a lot of history, especially if you are a fan of this team and all of the baseball greatness they have had in the past.