For Quality Care
Call Anderson Air
Fayetteville

, Arkansas' Trusted Heating and Cooling Service Provider
Anderson Air provides a variety of heating and air services in Fayetteville, Arkansas, and surrounding areas. We are a licensed, bonded, and insured HVAC provider that has been serving the area for more than 30 years. Our locally owned business focuses strongly on taking care of our customers' needs in any way that we can.
Residential Services
Commercial Services
Residential Services
Commercial Services
Reliable Heating and Air Conditioning Services in
Fayetteville

, Arkansas
Anderson Air offers reliable and affordable services in air conditioning and heating services. We strive to provide for our customers' needs while keeping our services affordable. We rely on you just as much as you rely on us and we work hard to maintain a positive reputation.
Our company takes pride in our expertise in the field and providing a valuable service for every client. Whether you need residential or commercial services, we've got you covered. We remain a locally owned and operated business, as we have for more than 30 years. We are here to serve your needs in the heating and air conditioning industry in Fayetteville, Arkansas.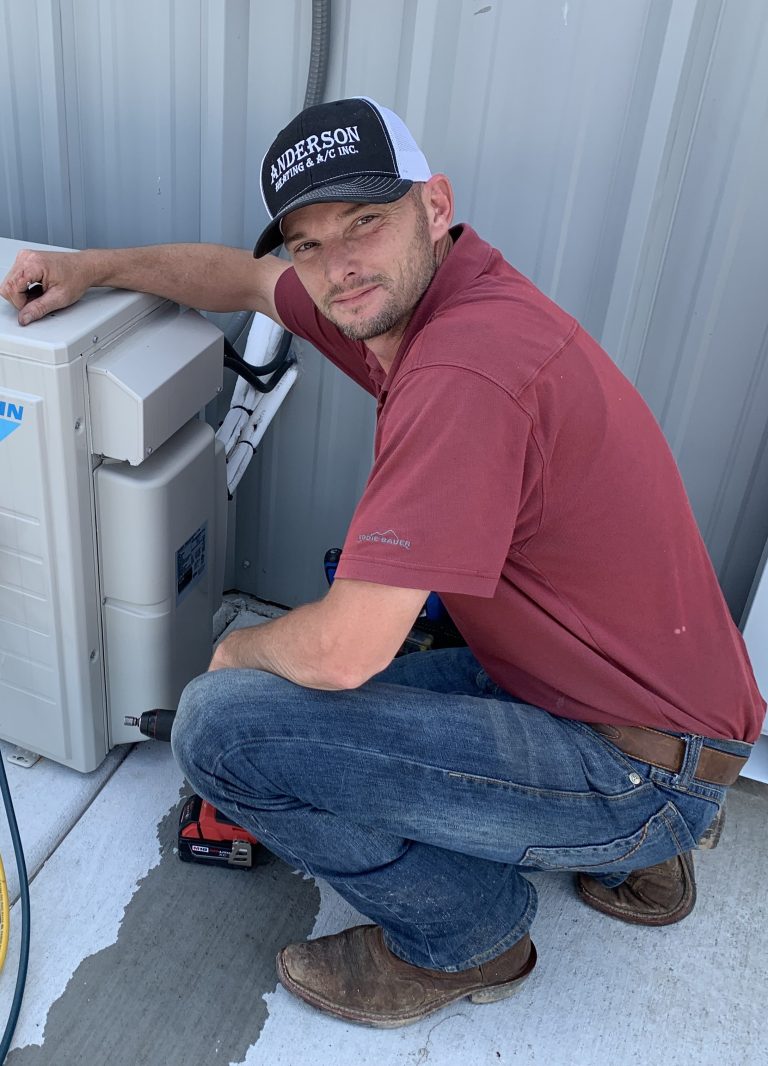 Residential and Commercial HVAC System Repair and Installation Services in
Fayetteville

, Arkansas
We offer reliable residential and commercial heating and air services that are top-notch in Fayetteville, Arkansas. Check out some of the HVAC services that we offer!
Give us a call today, or fill out our online contact form if you are in need of HVAC services in the Fayetteville, Arkansas area. We look forward to serving your needs.
We Offer Quality Services in
Fayetteville

, Arkansas
Don't wait to call us if you are noticing small issues. It is much better to take a proactive approach before a small issue becomes a big issue. If you catch a need before it becomes a big issue, you could save yourself some money. Just give us a call at Anderson Air for your issues, both big and small, in Fayetteville, Arkansas.
Reasons to Choose Us for Your Heating and Cooling Needs in
Fayetteville

, Arkansas
Anderson Air prides itself on being responsive and reliable for its customers. We make every effort to be there for your needs in a timely manner. First and foremost, our priority lies with serving our customers to the best of our abilities.
Some of the qualities that we feel are great reasons to give us a chance.
Service When You Need It
We are always here for you. If something goes wrong, give us a call. Don't put you or your home in jeopardy by waiting until next week or next month to get your heating and air service needs taken care of.
We are ready and waiting to serve you as our neighbors in Fayetteville, Arkansas.
Experienced & Professional Service
We have years of experience in this business and we are a locally-owned business to boot. Our staff are experienced in working with heating and air services and will always do their best to handle your needs and they will do so in a professional manner.
There is something to be said of both experience and professionalism and we are proud to be able to stand behind our commitment to offer you both of these things.
Satisfaction Guarantee
We wholeheartedly stand behind our work. Sometimes things can go wrong and while we certainly don't habitually have these issues, we will make it right if it does happen. We want to walk away with a happy customer experience and your issue resolved.
We Are Here for You!
At Anderson Air, not only do we have skilled staff but we believe in enjoying our work. We were trained for just this type of need and we proudly enjoy serving you. As a locally owned business, our reputation and our work means everything to us and we hope that shows when we provide service for you.
Things to Do in
Fayetteville

, Arkansas
Fayetteville, Arkansas is located in the Northwest corner of the state. Nearby, you will find the University of Arkansas Campus as well as the first home of former President Bill Clinton and his wife Hillary Clinton, which is now the Clinton House Museum.
This beautiful location offers all of the feelings of small-town life, with many of the entertainment and luxuries of larger cities.
There are many enjoyable activities in the area from shopping to enjoying the local lakes and parks. Here are some of the top picks for things to do in Fayetteville, Arkansas